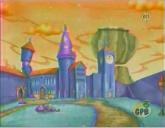 Frogsnorts Sorcerer's Academy (often just Frogsnorts) is a school for young wizards and witches on a cybersite. It first appeared in "Harriet Hippo and the Mean Green" when Digit broke an antidote. It is the home of Professor Stumblesnore and Shari Spotter. It is a parody of Hogwarts from J.K.Rowling's Harry Potter series, and Professor Stumblesnore and Shari Spotter parody Professor Dumbledore and Harry Potter, respectively.
Appearances
Ad blocker interference detected!
Wikia is a free-to-use site that makes money from advertising. We have a modified experience for viewers using ad blockers

Wikia is not accessible if you've made further modifications. Remove the custom ad blocker rule(s) and the page will load as expected.