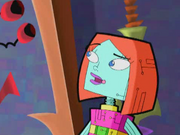 Erica Ram (voiced by Carla Collins) is from Castleblanca. She runs a TV show and fell in love with Hacker during the episode "The Halloween Howl". Erica gives interviews to people because she works for Cyberscoop. She almost always smiles, and doesn't like carolers (as seen in the episode "Starlight Night"). She also appears on the online game The Quest.
Appearances
"Going Solar"
"Father's Day" (cameo)
Ad blocker interference detected!
Wikia is a free-to-use site that makes money from advertising. We have a modified experience for viewers using ad blockers

Wikia is not accessible if you've made further modifications. Remove the custom ad blocker rule(s) and the page will load as expected.