Plot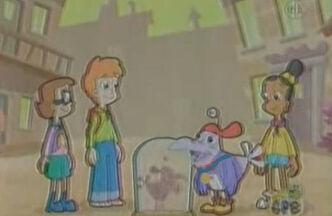 The kids have a really cool plan for Digit's b-day—a surprise party!  But in order to keep the secret, they pretend to forget his big day. Disappointed, Digit goes off on his own and runs into Hacker: If he can convince the dejected Digit that he is his one true friend, he can reprogram the cyboid to gain access to Motherboard! Meanwhile, the kids have a special gift made for their pal—a chocolate "Digit" sculpture. But to get it to the party, they must cross a desert where the heat threatens to melt the sweet treat. By observing how wearing a wet bandana keeps them cool, the kids figure out that evaporation is key to keeping the choco-sculpture from melting. But can they get it to Digit in one piece before Hacker cons him into changing sides?
External Links
Ad blocker interference detected!
Wikia is a free-to-use site that makes money from advertising. We have a modified experience for viewers using ad blockers

Wikia is not accessible if you've made further modifications. Remove the custom ad blocker rule(s) and the page will load as expected.