Plot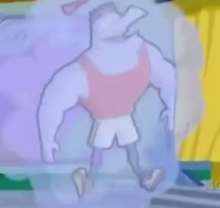 Frustrated that she can't find Mr. Perfect, The Wicked Witch sets out to design him, by turning a frog into her Prince Charming.  Unknowingly, however, Wicked captures and transforms Digit instead of a frog. Her sympathetic wand, Wanda (Danica McKellar), secretly alerts the CyberSquad who jump into action. Their problems multiply when a jealous Hacker kidnaps their cyboid pal. The kids must design an invention that can do two things: navigate a perilous swamp AND get to the top of a tall cliff. Can they pull off the rescue before it's too late?
External Links
PBS KIDS - Cyberchase Videos - Designing Mr. Perfect

Ad blocker interference detected!
Wikia is a free-to-use site that makes money from advertising. We have a modified experience for viewers using ad blockers

Wikia is not accessible if you've made further modifications. Remove the custom ad blocker rule(s) and the page will load as expected.