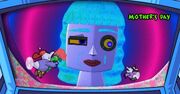 The following is a list of all of the main and minor characters that have appeared in Cyberchase.

This article is incomplete. You can help by adding characters, and putting on character images (Only a few on this page, but one for each character on their article) and also by creating articles about characters
Main Protagonists
Main Villains
Hacker's Assistants
Other Characters
Aquari-Yum
Castleblanca
The Cybrary
Ecohaven
Frogsnorts

Professor "Headmaster" Stumblesnore
Dody
Golftopia
Gollywood
Mr. Zero/ Mr. Z
Bank Owner
Mikey Spikey
Stormy Gale
Radopolis
R-Fair City
Sensible Flats
Pompadouria
Mt. Olympus
Memoryville
Shangri-La
Penguia (Cyberia)
PJ
Rusty
Walter
Emperor Penguia
Furgie
Emma
Ice
Perfectomundo
Solaria
Symmetria
Tomb of Rom (Pyramidia)
Tikiville
Thornia
Poddleville
Annie
Poddleville Mayor
Lilly
Chief
Sleight
Happily Ever After(ville)
Ziff (one of the three little pigs)
Old King Cole  
Spider
Jack (from Jack and the Beanstalk)
Unknown Cybersites
Ada Lovelace
Tappy
Jules
Erica Ram
Sam Vander Rom
Professor Archimedes
Yuki
Rika
Gallery
Ad blocker interference detected!
Wikia is a free-to-use site that makes money from advertising. We have a modified experience for viewers using ad blockers

Wikia is not accessible if you've made further modifications. Remove the custom ad blocker rule(s) and the page will load as expected.